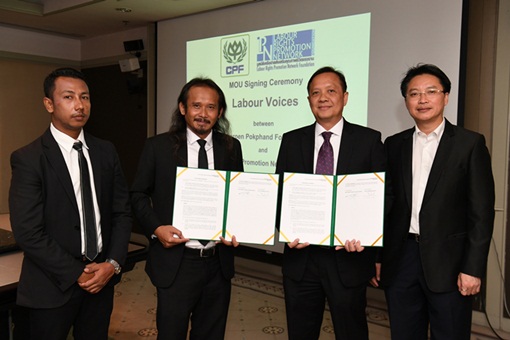 CP Foods launches 'Labour Voices' hotline and training program
Aims to create benchmark worker grievance mechanism
Charoen Pokphand Foods PLC (CP Foods) has signed a memorandum of understanding with the Labour Rights Promotion Network Foundation (LPN), to launch the Labour Voices Centre as a tool allowing CPF employees to voice their concerns to a neutral organization. This project affirms CP Foods' commitment towards good labour practices.
Mr. Parisotat Punnabhum, CP Foods' Executive Vice President of Human Resources, said that the company's Labour Voices Centre is created under an MoU with LPN, aimed at improving workers' quality of life. Through this mechanism, CP Foods' employees and workers nationwide, regardless of position or nationality, are encouraged to freely express their opinions, recommendations, and complaints, through a dedicated hotline operated by LPN. Workers will also receive training on labour rights, which will help the company properly manage potential labour risks with transparent and fair practices. CP Foods aims to create a benchmark for good labour practices within Thailand's food industry.
"LPN's staff, including lawyers, will directly operate the Labour Voices Centre, acting as a third party in handling workers' concerns. This will establish trust among workers and allow the Company to obtain honest feedback on actual work conditions and to promptly tackle all problematic issues," Mr. Parisotat said.
Mr. Parisotat added that LPN has a reputable track record in Thailand, with expertise built from 20 years of working within the Thai labor rights sector. LPN has an extensive network within both the public and private sectors, as well as civil society in Thailand and abroad, allowing an integrated approach in handling workers' issues. Through existing worker hotlines and an extensive volunteer network nationwide, LPN offers advice and assistance to both Thai and migrant workers, receiving more than 1000 calls everyday. LPN's social media channels, include Facebook, has about 150,000 followers.
Throughout an initial one-year project, LPN and CP Foods will also organize training on human rights, Thai labour laws, and occupational health & safety, to both Thai and foreign workers.
Mr. Sompong Srakaew, Director and Founder of LPN, said that the project marked a positive milestone, whereby a Thai private-sector company partners with a civil society organization, in lifting workers' quality of life. Through the neutral Labour Voices Centre, both parties can combine their strengths and create synergies in tackling potential human rights issues, including forced and child labor, in a comprehensive manner.
In a related development, CP Foods has continued to show its commitment to improve the quality of life of its Thai and migrant workers, by implementing Thai Labor Standard 8001-2010 (TLS) in all of its production sites in Thailand, with TUV Sud as its independent audit partner. The implementation of TLS 8001-2010, which is equivalent to global labour standards such as SA 8000, BSCI and Sedex, will lift the long-term competitiveness and sustainability of the Company and of Thailand's food and agricultural industries./
Source: https://www.bangkokpost.com/forum/viewtopic.php?f=69&t=170672